Here is a very interesting interview of Daryl Simm, CEO Omnicom Media Operations. He is advising his clients to move 10 to 25% of their TVs budgets to Online video advertising. This confirms my intuition that a very large part of TV budgets will migrate to the Internet in the coming years. We are at the beginning of a very big wave.
Daryl underlines the fact that there is a lack of quality inventory on the market, because the amount of quality online video is still limited.
We will go and show him our inRead video advertising format, which is sitting inside the articles of the world's leading media, rather than inside video feeds. This opens a brand new and massive premium video inventory.
I am sure Daryl will like it!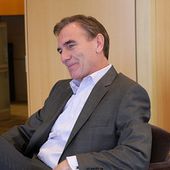 Omnicom Advises Marketers to Move 10% to 25% of TV Ad Dollars To Online Video
Daryl Simm, chief executive officer of Omnicom Group's media operations, overseas roughly $5.4 billion in advertising spending around the globe and represents advertisers such as PepsiCo, Visa ...
http://mobile.blogs.wsj.com/cmo/2014/10/06/omnicom-advises-marketers-to-move-10-to-25-of-tv-ad-dollars-to-online-video/